Reviewed by my customers!
• Laura Callaghan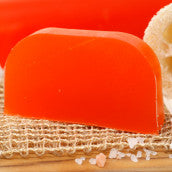 A review by Granny Morrish of Ancient Wisdom's Argan Oil Solid Shampoo & Body Soap: This soap is rather good. It doesn't lather much, which I found a bit disconcerting when I was using it because I associate shampoo with lots of bubbles, but nevertheless my hair was clean and smelled lovely for quite a few days afterwards. I popped the soap into a pot thinking it might go a bit squishy after one use but it kept its shape and is still good to go. Looking forward to trying the other variety! Review by mum of three, Alison Knight: I bought...
---
• Laura Callaghan
What a pretty dish cloth! I didn't want to use it! I purchased the tough version and it took a bit to get used to, it was quite thick so great for stubborn dirt. I think I will buy the less hard duty version to do my other dishes too. I have popped this in the wash too with my t-towels and came out fine. Review by Alison Knight, mother of 3 girls. https://plasticfree.baby/products/tabitha-eves-zero-waste-starter-kit?_pos=1&_sid=14437ef52&_ss=r
---
• Laura Callaghan
I received this as a gift and had put off making them! I got round to doing them yesterday and it was really nice making these for yourself. They come in simple packaging and had good instructions. You have to grate the wax block over the cotton, so after grating the whole block did get a bit tacky on your hands, but easily washed off. They were quick to make, the instructions say lowest temp on your oven however I found it best if it was set at 100 degrees. They dried quickly and I wrapped up some sandwiches in...