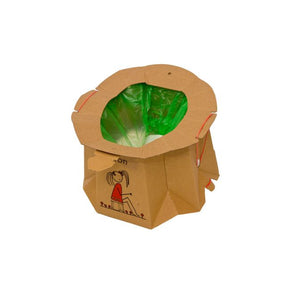 Plastic Free Baby
Disposable Biodegradable Travel Potty in Recycled Cardboard
Regular price
£3.00
£0.00
Unit price
per
Tax included.
Shipping
calculated at checkout.
When you are out and about, going for a family walk or going camping, then this disposable biodegradable travel potty (made from recycled cardboard) is perfect to pop in your travel bag and take along for those "uh oh, I need a poo!" moments :-)  It's an eco friendly and biodegradable and the potty is plastic free.
The TRON plastic free biodegradable travel potty is...
Easy to use:
when your toddler needs it, you just unfold it, use it and fold it back

Practical and functional:
it works great when you are at a store, on a trip or journey with your child

Ecological:
manufactured from environmentally friendly materials. The SAP superabsorbent pad, which is responsible for absorption of liquids and odors is biodegradable.

Safe and reliable:
the potty does not crack, bend, it is reliable and stable. Perfect in difficult situations

Durable:
special construction and material make the potty easily stand big pressure

Collapsible and compact:
thanks to its small dimensions, it will easily fit into any purse, and unfolding it takes just a few seconds
The disposable TRON potty is unusually practical. It will easily fit into a purse, coat or trousers pocket. In comparison to the existing solutions, the TRON potty enables it's use without the need of performance of complicated activities during unfolding and folding. 
Please note - the TRON potty comes in a plastic wrapper essential for hygiene purposes.
---
Share this Product