• Laura Callaghan • baby clothes • eco-friendly • plastic-free parenting • zero waste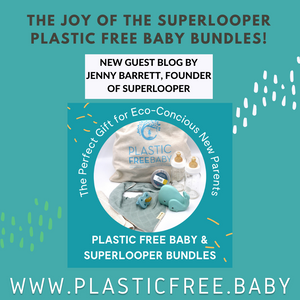 Hi, My name is Jenny Barrett. I live in Hove on the South East coast of the UK. I'm the founder of SuperLooper, the preloved baby clothing rent and recycle service. Along with my biz partner Ashwin Susarla and our amazing assistant Kate Mager, we work to keep garments, that already exist, in circulation longer and therefore reduce the waste which takes the joy out of dressing babies in lovely clothes. Babies grow sooooooo quickly and leave a trail of hardly worn, beautiful clothes in their wake. Parents either pass clothes down to friends, family or charity shops (which is...
---
• Laura Callaghan • baby clothes • baby cosmetics • baby nursery • baby toys • low plastic • no plastic • organic • plastic free baby • plastic-free • toxic plastic
It's Organic September!  #chooseorganic   Going organic is growing in importance for so many families these days... but... - Why buy organic for your baby? - Why go organic AND plastic-free for your baby and family? - And what are the best organic products for babies?   Here's my plastic-free organic baby guide, which I hope helps you to navigate the world of raising an organic baby ;-).  I am a massive advocate of, whenever possible within your family budget, buying organic alternatives to baby products. There are benefits to the health of our families and the environment by choosing organic. Searching for...