• Laura Callaghan • baby toys • no plastic • plastic free baby • plastic-free • reduce plastic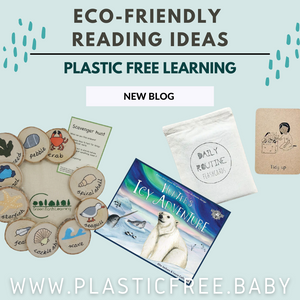 For those of us who have been asked to dress our little ones up at school or nursery, we'll know that World Book Day is upon us again falling this year on 3rd March 2022. Dressing up as characters from our favourite books is a really great way to encourage our babies and children to get excited about reading, but ... it got me thinking... what other ways are there to get children really into reading? And are there any plastic-free and eco-friendly ways to do this, too?  Here are some ideas for activities to inspire our little ones to engage...
---
• Laura Callaghan • baby clothes • baby cosmetics • baby nursery • baby toys • low plastic • no plastic • organic • plastic free baby • plastic-free • toxic plastic
It's Organic September!  #chooseorganic   Going organic is growing in importance for so many families these days... but... - Why buy organic for your baby? - Why go organic AND plastic-free for your baby and family? - And what are the best organic products for babies?   Here's my plastic-free organic baby guide, which I hope helps you to navigate the world of raising an organic baby ;-).  I am a massive advocate of, whenever possible within your family budget, buying organic alternatives to baby products. There are benefits to the health of our families and the environment by choosing organic. Searching for...