• Laura Callaghan • baby products • eco-friendly • plastic free baby • plastic free new year • plastic free parent • plastic-free • plastic-free parenting
Brrrrrr... it's chilly out there!  It got me thinking about ways to navigate through the cold spell, in environmentally friendly ways that connect us back to our place and our planet, and our loved ones all at the same time.  I think of winter, and I think of the word COLD first and foremost... so I have taken that word and have come up with some ideas for green activities and sustainable products that can help you through the bleakest of icy, wintery weather.   C-uddles O-utdoor Activities L-ayers D-o Less     C - is for CUDDLES Winter is...
---
• Laura Callaghan • baby products • eco-friendly • plastic free • zero waste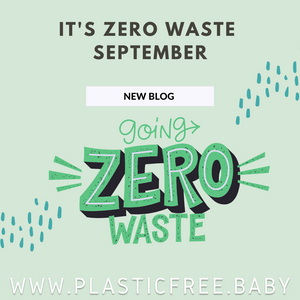 This September we are launching some new products as part of the new Plastic-Free Baby Zero Waste range! It's Zero Waste week from 5th-9th September 2022, and we are celebrating all things zero waste, all September long. With the Plastic-Free Baby shop and blog, I am always seeking ways to cut down our ecological footprint. It isn't enough that all of the Plastic-Free Baby products are totally plastic-free. We all need to go further and do more for the environment.  With this in mind, I've launched our new Zero Waste collection, which includes … imperfect items that would otherwise not...
---
• Laura Callaghan • baby cosmetics • baby products • celebration • eco-friendly • homemade • low plastic • no plastic • plastic free baby • plastic-free • plastic-free travel • reduce plastic
  The summer solstice falls this year on Tuesday 21st June, and it marks the astronomical start to the summer! Something to celebrate, I think you'll agree!   Communities the world over find ways to celebrate light, the longest day of the year, brighter evenings, bountiful harvests, rebirth and POTENTIAL, by organising feasts, singing, dancing, rituals, gatherings, and much more.  I thought I'd put together a few ideas for a PLASTIC-FREE summer solstice celebration, to try to inspire you and your family to start some new family traditions that are kind to, and safe for, the environment and your little ones....